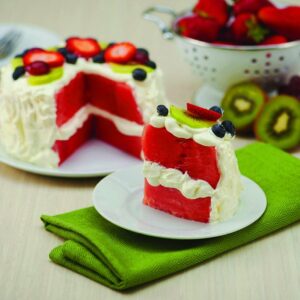 Watermelon Cake
Ingredients
Ingredients

1

seedless watermelon

½

container

8 ounces frozen light whipped topping, thawed

1

container

8 ounces low-fat lemon yogurt

Fresh fruit to decorate cake

3 strawberries, 1 whole kiwi fruit, 6 grapes, 6 blueberries
Instructions
Directions

Wash hands with warm water and soap. Wash fresh fruits before preparing.

Select a watermelon about 9 inches in diameter. Cut a three to four inch thick section from the middle of the watermelon. Cut four slits through the rind without cutting into the red part of the watermelon. Cut between the white rind portion and the red flesh to remove the rind. Pat watermelon cake dry with a paper towel and place on a flat serving plate.

Fold together the whipped topping and yogurt. Frost the top and sides of watermelon with the whipped topping mixture. Decorate as desired with fresh fruit.

Refrigerate until ready to serve. Can be stored several hours or overnight.
Notes
Nutrition Facts (Per Serving)
Calories, 207; Carbohydrate, 46 g; Protein, 3 g; Total Fat 3 g; Saturated Fat, 2 g; Trans Fat, 0 g; Cholesterol, 2 mg; Fiber, 2 g; Total Sugars, 39 g; Sodium, 17 mg; Calcium, 77 mg; Folate, 0 mcg; Iron, 1 mg; Percent Calories from Fat, 13%.
Makes 10 servings, 1 slice each.