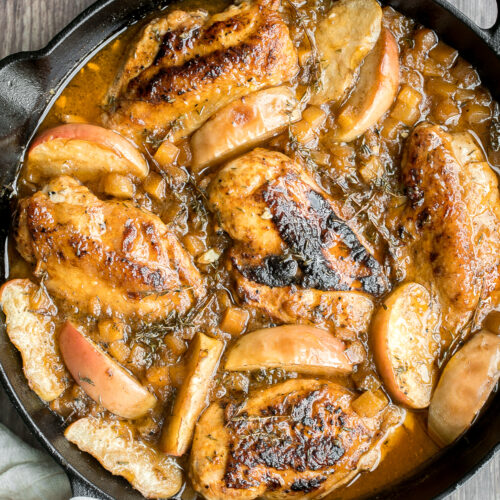 APPLE CIDER CHICKEN WITH BUTTERNUT SQUASH
Equipment
Oven

Paper Towel

Small bowl

Cast-iron Skillet

Large Mixing Bowl

Measuring Spoons
Ingredients
5

chicken breasts

boneless, skin-on

2

tablespoons

olive oil

divided

2

tablespoons

paprika

1

tablespoon

salt

1/2

tablespoon

ground black pepper

2

tablespoons

butter

softened

1

tablespoon

mustard

1

tablespoon

brown sugar

1

tablespoon

soy sauce

2

cups

butternut squash

diced into ¼-inch cubes (fresh or thawed from frozen)

1

apple

sliced

1

tablespoon

fresh thyme

chopped
Instructions
Wash hands with warm water and soap for 20 seconds.

Preheat oven to 420°F.

Prep the chicken: Pat dry each chicken breast with a paper towel completely before adding seasoning. This helps create extra crispy skin when searing and roasting!

In a small bowl, combine olive oil, paprika, salt and pepper. Mix well with a spoon to combine. Generously smear the seasoning mixture over the chicken breasts and let it rest on a clean plate for at least 15 minutes.

Sear the chicken: Heat an oven-safe or cast-iron skillet on the stove for 5 minutes over medium-high heat. Once the skillet is sizzling hot, sear the chicken breasts by placing them skin side down until the skin turns brown, about 4-5 minutes. Transfer the chicken breasts on a plate to rest.

Prepare apple cider sauce: In the same skillet, turn down the heat to medium and add apple cider, butter, mustard, brown sugar, and soy sauce. Stir to combine. Bring the sauce mixture to a simmer and stir until it forms a smooth texture. Remove from heat and transfer the chicken breasts back to the skillet with the skin side up.

Prepare butternut squash: In a large mixing bowl, add butternut squash, sliced apples, thyme, and remaining tablespoon of olive oil. Toss to combine. If using frozen butternut squash, make sure to defrost first and pat dry to remove excess water. Transfer the butternut squash and apple mixture to the skillet and spread it around the chicken.

Transfer the entire skillet into the preheated oven and bake for 20 minutes until the skin is crispy and golden brown.

Serve the chicken and butternut squash on a plate and drizzle some apple cider sauce from the skillet on top. Enjoy!