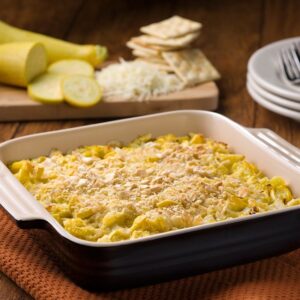 Yellow Squash Casserole
Equipment
Cutting Board

Knife

Measuring Cup

Oven

Skillet

mixing bowl

Casserole Dish
Ingredients
Ingredients

8

medium squash

sliced and chopped

4

onions

chopped

1

Tablespoon

vegetable oil

4

garlic cloves

crushed

salt and pepper to taste

1

cup

fat-free milk

1

egg

½

cup

mozzarella cheese

1

cup

unsalted crackers

crumbled
Instructions
Directions

Wash hands with soap and warm water. Wash fresh vegetables before preparing.

Preheat oven to 350º F.

Slice and chop squash into fourths. Fry squash and onions in oil in a skillet over medium heat, approximately 10 minutes or until tender.

Put mixture in a mixing bowl. Add garlic and salt and pepper to taste.

Mix milk and egg in a bowl, beat well. Add to squash. Add cheese.

Return to skillet. Cook over medium heat until all cheese is melted and mixed completely. Stir to avoid sticking. Do not over stir.

Transfer to a casserole dish. Sprinkle with cracker crumbs and bake for 45 minutes.
Notes
Nutrition Facts (Per Serving)
calories, 226; carbohydrate, 33 g; protein, 10 g; total fat, 8 g; saturated fat, 2 g; trans fat, 0 g; cholesterol 32 mg; fiber, 5 g; total sugars, 15 g; sodium, 329 mg; calcium, 223 mg; folte, 82 mcg; iron, 2 mg; percent calories from fat, 29%.
Makes 6 servings