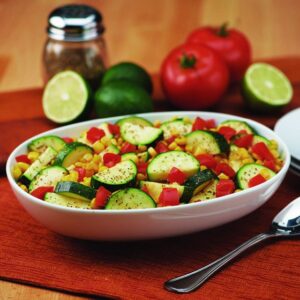 Citrus Vegetables
Equipment
mixing bowl

Stirring Spoon
Ingredients
Ingredients

Using citrus is a fantastic way to add flavor to your vegetables without adding fat. Limes in particular

have a wonderful perfume that brightens anything you pair them with, especially vegetables like zucchini and corn.

Ingredients:

2

Tablespoons

fresh lime juice

½

Tablespoon

olive oil

½

teaspoon

chopped fresh oregano

4

cups

sliced steamed vegetables such as zucchini

corn and tomatoes
Instructions
Directions

Wash hands with warm water and soap. Wash vegetables before preparing.

Mix lime juice with oil.

Add oregano and pour over vegetables.
Notes
Nutrition Facts (Per Serving)
Calories, 51; carbohydrate, 7 g; protein, 2 g; total fat, 3 g; saturated fat, 0 g; trans fat, 0 g; cholesterol, 0 mg; fiber, 2 g; sodium, 150 mg; calcium, 5 mg; total sugars, 6g; folate, 1 mg; iron, 0 mg; percent calories from fat, 22%.
Makes 4 servings.