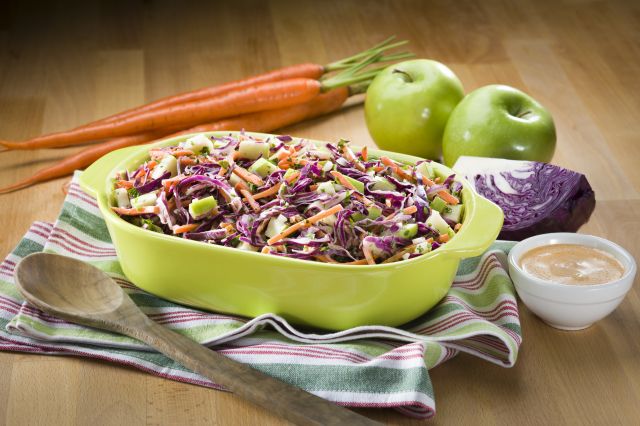 Chipotle Apple Slaw
Equipment
mixing bowl

Whisk

Knife

Cutting Board

Refrigerator
Ingredients
Ingredients

¼

cup

Greek yogurt

non-fat

1

tablespoon

diced chipotle pepper in adobo sauce

about 1 pepper

1

teaspoon

olive oil

2

teaspoons

apple cider vinegar

1

tablespoon

sugar

¼

teaspoon

kosher salt

3

cups

finely shredded red cabbage

¼

cup

diced sweet onion

½

cup

shredded carrots

1

cup

diced apple with skin

¼

cup

finely chopped parsley
Instructions
Directions

Wash hands with warm water and soap. Wash fresh fruits and vegetables before preparing.

Combine yogurt, chipotle pepper, olive oil, apple cider vinegar, sugar and salt in a large mixing bowl. Whisk well until mixed and set aside.

Add cabbage, onion, carrots, apple and parsley to yogurt mixture. Toss to combine.

Cover and refrigerate for 30 minutes prior to serving to allow the cabbage to wilt and flavors to develop.

Cook's Note: Use less chipotle pepper to decrease the spiciness.
Notes
Nutrition Facts (Per Serving)
Calories, 80; Carbohydrate, 16 g; Protein, 3 g; Total Fat, 1.5 g; Saturated Fat, 0 g; Trans Fat, 0 g; Cholesterol, 0 mg; Fiber, 3 g; Total Sugars, 11 g; Sodium, 180 mg; Calcium, 54 mg; Folate, 23 mcg; Iron, 1 mg; Calories from Fat, 16%.
4 servings, 1 cup each