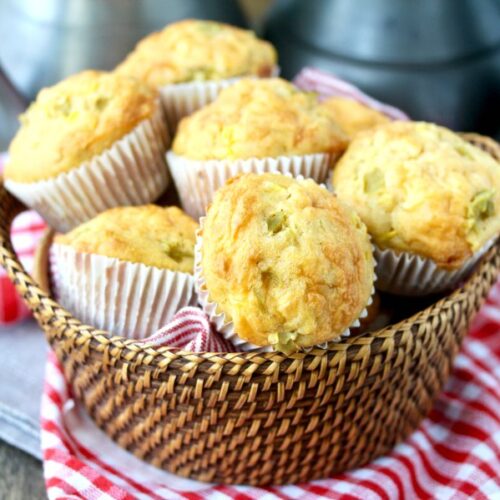 Green Chili Muffins
Equipment
12 Cup Muffin Tin

Oven

Mixing Bowls

Whisk

Wire Rack
Ingredients
Ingredients

Non-fat cooking spray or paper liners

1

cup

whole wheat flour

¾

cup

cornmeal

2

Tablespoons

sugar

1

Tablespoon

baking powder

1

teaspoon

salt

¼

teaspoon

cayenne pepper

1

medium egg

1

cup

fat-free milk

3

Tablespoons

canola oil

1

can

8 ounces whole kernel corn, well drained

1

can

4 ½ ounces diced green chilies, well drained, divided

½

cup

shredded low-fat sharp Cheddar cheese
Instructions
Directions

Wash hands with warm water and soap.

Preheat oven to 400° F.

Lightly coat a 12-cup muffin pan with non-fat cooking spray or line with paper liners and set aside.

Mix together flour, cornmeal, sugar, baking powder, salt and cayenne.

In separate bowl, lightly beat egg. Add milk, canola oil, corn and all but 2 tablespoons of chilies and mix together.

Add wet ingredients to dry ingredients, stirring just until combined.

Fill each muffin cup half full. Top each with 1 teaspoon of cheese.

Divide remaining batter evenly among muffin cups.

Sprinkle each top with 1 teaspoon of cheese and ½ teaspoon of remaining green chilies.

Bake for 20 minutes, until toothpick inserted in center of muffin comes out clean.

Cool in pan on wire rack for 5 minutes.

Remove muffins from pan and continue cooling on rack.
Notes
Nutrition Facts (Per Serving)
calories, 152; carbohydrate, 23 g; protein, 5 g; total fat, 5 g; saturated fat 1 g; trans fat, 0 g; cholesterol, 19 mg; fiber, 2 g; total sugars, 4 g; sodium, 461 mg; calcium, 75 mg; folate, 21 mcg; iron, 1 mg; percent of calories from fat, 30%.
Makes 12 Servings, 1 muffin each