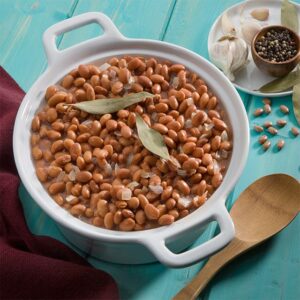 Beautiful Pot of Beans
Ingredients
1

pound

dried pinto beans

1

cup

chopped onion

2

bay leaves

1

tablespoon

mixed dried spices

cumin, oregano, paprika, garlic powder, etc
Instructions
Wash hands with soap and warm water. Wash produce and chop as directed.

Spread beans on a tray to pick out and discard any small stones.

Transfer beans to a strainer and rinse.

Place beans in a large pot and cover with a few inches of cold water and soak over night.

After soaking, drain and rinse. Add beans back to the pot.

Add all the other ingredients to the pot. Add enough fresh water to cover beans by about 2 inches.

Bring to a boil. Lower heat and simmer, uncovered, for about 1 ½ hours until beans are tender. Remove bay leaves.

Serve hot or cool and refrigerate leftovers.
Notes
Nutrition Facts (Per Serving)
calories, 140; carbohydrate, 25 g; protein, 8 g; total fat, 0.5 g; saturated fat, 0 g; trans fat, 0 g; cholesterol, 0 mg; fiber, 6 g; total sugars, 1 g; sodium, 30 mg; calcium, 48 mg; folate, 201 mcg; iron, 2 mg; percent calories from fat, 3%.