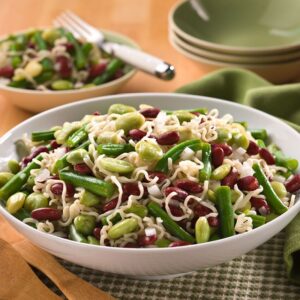 Sweet Noodle Salad
Equipment
Cutting Board

Knife

Measuring Cups

Measuring Spoons

Large Bowl

mixing bowl

Small Pan

Stove
Ingredients
Ingredients

1

can green beans

1

can kidney beans

1

can lima beans

½

cup

chopped onion

½

cup

cider vinegar

3

Tablespoons

sugar

¼

teaspoon

pepper

1

package ramen noodles
Instructions
Directions

Wash hands with soap and warm water. Wash fresh vegetables before preparing.

Drain and rinse the beans under running water. Put beans and onion in a large bowl.

Heat cider vinegar, sugar, and pepper in a small pan until the sugar dissolves. Remove from heat.

Discard flavor packet from ramen noodles. Break noodles in pieces and cook according to package directions. Drain well.

Add noodles and cider mixture to the beans. Stir gently. Cover and refrigerate until serving time.
Notes
Nutrition Facts (Per Serving)
Calories, 174; Carbohydrate, 34 g; Protein, 8 g; Total Fat 0 g; Saturated Fat, 0 g; Trans Fat, 0 g; Cholesterol, 0 mg; Fiber, 9 g; Total Sugars, 7 g; Sodium, 365 mg; Calcium, 29 mg; Folate, 60 mcg; Iron, 1 mg; Percent Calories from Fat, 0%.
Makes 8 servings