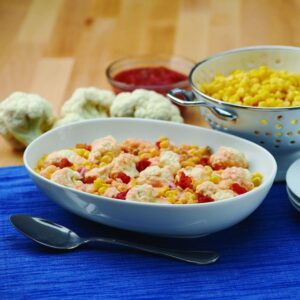 Zesty Cauliflower
Equipment
Cutting Board

Knife

Steamer Basket

Colander

Stove

Large Sauce Pan
Ingredients
Ingredients

1½

cups

cauliflower florets

½

cup

low-fat sour cream

1

Tablespoon

low-fat mayonnaise

1

teaspoon

hot red pepper sauce

½

cup

salsa

¼

cup

low-fat shredded Cheddar cheese

1½

cups

corn

cooked
Instructions
Directions

Wash hands with soap and warm water. Wash fresh vegetableds before preparing.

Cook the cauliflower florets by steaming them over boiling water for 5 minutes until tender.

Drain cauliflower and set aside.

Combine sour cream, mayonnaise, hot red pepper sauce, salsa, and low fat cheddar cheese in a large saucepan and cook over medium heat until bubbly, stirring constantly.

Add the cooked cauliflower and corn.

Toss well and serve.
Notes
Nutrition Facts (Per Serving)
calories, 102; carbohydrate, 14 g; protein, 5 g; total fat, 3 g; saturated fat, 1 g; trans fat, 0 g; cholesterol, 8 mg; fiber, 1 g; total sugars, 5 g; sodium, 168 mg; calcium, 65 mg; folate, 16 mcg; iron, 0 mg; percent calories from fat, 26%.
Makes 6 servings.