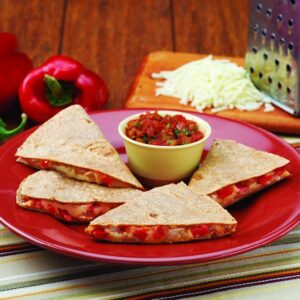 Vegetable Quesadillas
Equipment
Cutting Board

Knife

Measuring Cup

Stove

Medium Skillet
Ingredients
Ingredients

1

cup

green bell peppers

chopped

1

cup

frozen corn

thawed

¾

cup

green onion

chopped

1

cup

tomatoes

chopped

2

tablespoon

cilantro

chopped

½

cup

low-fat cheddar cheese

shredded

4

whole wheat tortillas

6 inch tortillas
Instructions
Directions

Wash hands with warm water and soap. Wash fresh vegetables before preparing

Spray a medium skillet with nonstick cooking spray. Sauté (fry briefly over high heat) bell pepper and corn over medium heat until softened, about 5 minutes.

Add green onion and tomato; cook for several minutes more until heated through; add cilantro.

Heat tortillas in a large skillet over high heat; place equal amounts of cheese and vegetables on each tortilla; fold in half and continue to cook until cheese is melted and tortilla is crisped and lightly brown. Serve while hot.
Notes
Nutrition Facts (Per Serving)
Calories, 210; Carbohydrate, 33 g; Protein, 9 g; Total Fat, 5 g; Saturated Fat, 1 g; Trans Fat, 0 g; Cholesterol, 5 mg ; Fiber, 4 g; Total Sugars, 5 g; Sodium, 260 mg; Calcium, 66 mg; Folate, 12 mcg; Iron, 2 mg; Percent Calories from Fat,7%.
Makes 4 servings, 1 tortilla.