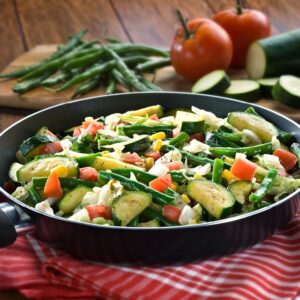 Italian Style Vegetables
Equipment
Cutting Board

Knife

Large Skillet With Lid

Stove
Ingredients
Ingredients

2

small zucchini

about 1 pound

1

medium onion

½

small head of green cabbage

½

pound

fresh green beans

1

garlic clove

½

cup

fresh or frozen corn kernels

1

tablespoon

olive oil

½

teaspoon

dry oregano

1

cup

chopped fresh or canned tomatoes
Instructions
Directions

Wash hands with warm water and soap.

Wash fresh vegetables before preparing.

Wash and trim vegetables. Slice zucchini and onions into 1/2 inch pieces; snap beans into pieces; thinly slice or shred cabbage.

Peel and finely dice garlic.

Heat oil in large skillet over medium heat; add green beans and cook for 2 minutes while stirring.

Continue stirring and add onions, cabbage, and zucchini. Cook over medium heat until soft.

Add garlic, corn and oregano.

Cook over medium heat for 5 minutes or until tender. Stir occasionally.

Add chopped tomatoes and cook for one more minute.

Serve hot.
Notes
Nutrition Facts (Per Serving) Calories, 100; Carbohydrate, 18 g; Protein, 4 g; Total Fat, 2 g; Saturated Fat, 0 g; Trans Fat, 0 g; Cholesterol, 0 mg; Fiber, 5 g; Total Sugars, 4 g; Sodium, 16 mg; Calcium, 34 mg; Folate, 89 mcg; Iron, 1 mg; Calories from Fat, 21%. Makes 8 servings, approximately 1 cup each.