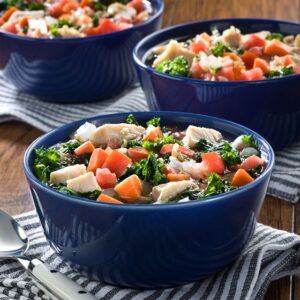 Chicken Vegetable Soup with Kale
Equipment
Large Pan

Stove

Knife

Cutting Board
Ingredients
Ingredients

½

cup

peeled and chopped onion

¾

cup

chopped carrot

2

teaspoons

vegetable oil

1

teaspoon

ground thyme

2

cloves

peeled and finely diced garlic

3

cups

canned low-sodium chicken broth

¾

cup

tomatoes

diced

1

cup

cubed

cooked, skinless chicken

1

cup

cooked brown rice

cooked

2

cups

chopped kale
Instructions
Directions

Wash hands with warm water and soap.

Wash fresh vegetables before preparing.

Heat oil in a large pan over medium heat.

Add onion and carrot to pan. Cook until vegetables are tender, about 5-8 minutes.

Stir in thyme and garlic. Cook for one minute.

Add broth, tomatoes, cooked rice, chicken and kale.

Simmer for 5-10 minutes before serving.

Serve hot.
Notes
Nutrition Facts (Per Serving)
Calories, 264; Carbohydrate, 27 g; Protein, 22 g; Total Fat, 9 g; Saturated Fat, 2 g; Trans Fat, 0 g; Cholesterol, 39 mg; Fiber, 4 g; Total Sugars, 3 g; Sodium, 126 mg; Calcium, 114 mg; Folate, 32.5 mcg; Iron, 2.6 mg; Calories from Fat, 30%.
Makes 3 servings, approximately 2 ½ cups each.