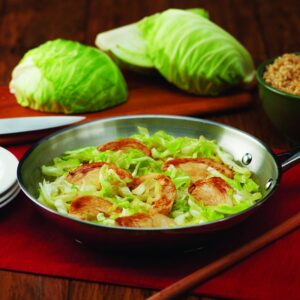 Chicken-Cabbage Stir-Fry
Ingredients
Ingredients

3

chicken breast halves

skinned and boned

3

cups

green cabbage

cut in ½-inch slices

½

teaspoon

ground ginger

½

cup

water

1

teaspoon

oil

1

tablespoon

cornstarch

¼

teaspoon

garlic powder

1

tablespoon

soy sauce
Instructions
Directions

Wash hands with warm water and soap. Wash fresh vegetables before preparing.

Cut chicken breast halves into strips.

Heat oil in frying pan.

Add chicken strips and stir-fry over moderately high heat, turning pieces constantly, until lightly browned (about 2 to 3 minutes).

Add cabbage; stir-fry 2 minutes until cabbage is tender-crisp.

Mix cornstarch, ginger and garlic powder; add to water and soy sauce, mixing until smooth.

Stir into chicken mixture.

Cook until thickened and pieces are coated, about 1 minute.

Serve hot.
Notes
Nutrition Facts (Per Serving)
Calories, 105; carbohydrate, 5 g; protein, 10 g; fat, 2 g; saturated fat, 0 g; trans fat, 0 g; cholesterol, 28 mg; fiber, 1 g; total sugars, 2 g; sodium, 390 mg; calcium, 24 mg; folate, 24 mcg; iron, 0 mg; percent calories from fat, 17%.
Makes 4 servings.