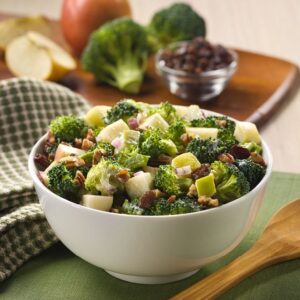 Apple Broccoli Salad
Equipment
mixing bowl

Stirring Spoon
Ingredients
3

apples

3

cups

fresh raw broccoli

cut up

¼

cup

chopped pecans

1

tablespoon

chopped red onion

1/3

cup

raisins

½

cup

nonfat yogurt

vanilla flavored

lettuce

optional
Instructions
Wash hands with warm water and soap. Wash fresh fruits and vegetables before preparing.

Cut the apple and take out the seeds. Chop the apple.

Mix all ingredients together.

Serve on lettuce.
Notes
Nutrition Facts (Per Serving)
Calories, 135; Carbohydrate, 26 g; Protein, 3 g; Total fat, 4 g; Saturated fat, 0 g; Trans fat, 0 g; Cholesterol, 0 mg; Fiber, 4 g; Total sugars, 18 g; Sodium, 27 mg; Calcium, 68 mg; Folate, 30 mcg; Iron, 1 mg.
Makes 6 servings.