When I think of Sunday Dinner, it's always an easy, almost effortless meal that I can just simply enjoy and allow me to unwind, and that usually involves a pasta dish.
Recently, I found a local pasta company called Sonoran Pasta, which has a delicious bucatini pasta, made from scratch. I love a bucatini pasta, it looks like those pool noodles that kids use in the summer (but definitely not that large). Bucatini is usually served with a seafood dish and those thick noodles soak up the briny-ness (is that even a word?) of the protein of the sea but I love the riff of this dish made with the local produce from the Arizona locals.
I have found the BBQ grill to be the best thing for a homemade tomato based sauce. Roasting the tomatoes on the grill brings out its natural sugars, and it lends itself to create a whimsical sauce that is only achieved when heat mixes with the lycopene in the tomatoes and creates a harmonious melody. ( too much? I apologize, I just get so crazy when I talk about making homemade pasta sauce)
Take advantage of the local produce that surrounds you, it makes a simple dish into a stellar one and that is what makes a great Sunday Dinner.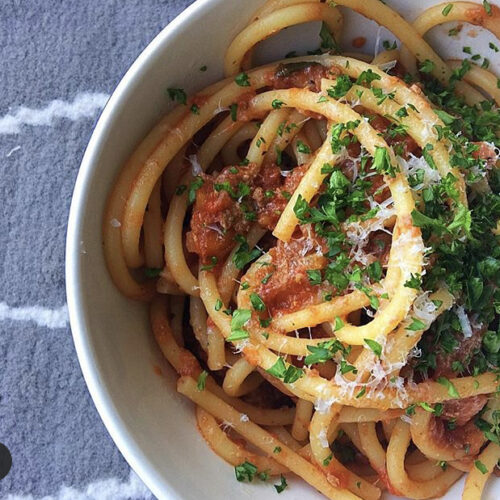 Pasta Bucatini
A quick and easy Sunday dinner at your fingertips
Equipment
sauce pan

stock pot

ladel

Knife

Cutting Board

food processor (or food chopper)

bbq grill
Ingredients
3

each

heirloom tomatoes

2

each

garlic cloves

peeled, and minced

1

each

onion

small size , diced

1

tsp

paprika

1

tsp

garlic salt

1 tsp

tsp

pepper

1

tsp

sugar

1

lb

bucatini pasta

Fresh is best

1/4

cup

bread crumbs

Fresh is best, but a unseasoned store is recommended.
Instructions
Heat BBQ grill to medium heat

Roast the tomatoes until charred and set aside in a bowl

Add the rest of ingredients to bowl and using hands, mixed ingredients into bowl

Add to food processor and pulse ingredients

Heat a stock pot with water. Bring to boil, season with salt (1 tsp).

Add the noodles and cook to directions on package.

Serve noodles on the bowl and ladle sauce atop and garnish with fresh herbs and cheese (optional)