There are MANY ingredients in any cook's kitchen, but the one ingredient that home cook's should always utilize can be the tops of many leafy greens that otherwise get overlooked as they are packed with flavor!
A trip to Blue Sky Organics this weekend, allowed me to grab a bunch of carrots and take them home with me. Now while the carrots make a great addition to any meal itself, I am in love with the tops. In fact, I will tell you a little secret-…it's my go to for pesto. I have found that carrot tops keep their vibrancy in color as opposed to the basil counterpart we are so used to using and they also have a more earthy flavor making it a great marinade or to mix with yogurt or hummus for a savory dip.
We tend to think of pesto to use with pasta, and while that is true, I encourage you to take a look at what else you can find use for it. I love they year long availability of vegetables in Arizona, as I can always find myself doing something different with them week by week. Find some local potatoes from Crooked Sky Farms and roast them, as doing this brings out the natural sugars, making them a viable part of your dish.
This pesto marries well with roasted veggies, but it also lends itself to marinating or as a topping for sandwiches and dips. Next time you are looking to adapt a new 'pesto' into your culinary routine, don't discard those beautiful carrot tops! Make a presto pesto!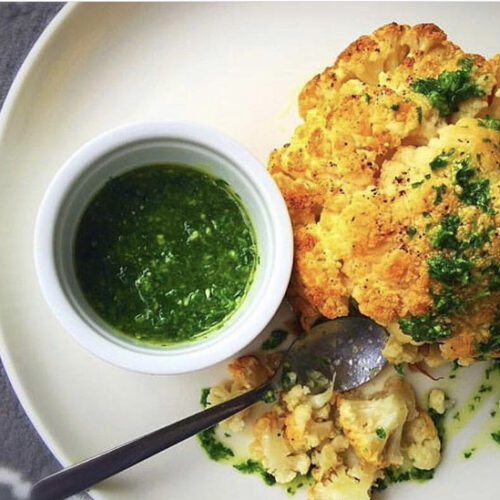 Carrot Top Pesto
A versatile Condiment for Any Occasion
Ingredients
2

c

Carrot Top

Leaves only, no stems

1

c

Sunflower Seeds

Roasted, no salt

3

each

Garlic Cloves

whole, peeled

1/2

each

Lemon

Juice and zest

1

c

olive oil

neutral oil works too

1

tsp

salt

to taste, add more if needed

1

tsp

pepper

to taste, add more if needed
Instructions
In a food processor , add all ingredients (minus oil and salt and pepper) and pulse until crumb like mixture (you may have to push down leaves into the grates in between, they tend to like getting stuck on the sides of the bowl).

Slowly add in your oil and continue to process on the low speed until fully incorporated.

Season with salt and pepper. Enjoy!
Notes
This condiment is freezable. Feel free to swap out the sunflower seeds for nuts if you like. I have a nut allergy so I make mine with seeds. 
Use some now and save some in your freezer for later in either small deli containers or freezer safe zip top bags. You can add cheese to this recipe (Pecorino or another sheep milk cheese is very nice with it) is you  want a more traditional pesto taste from the cheese, but I love the dairy free version of it.  Enjoy!