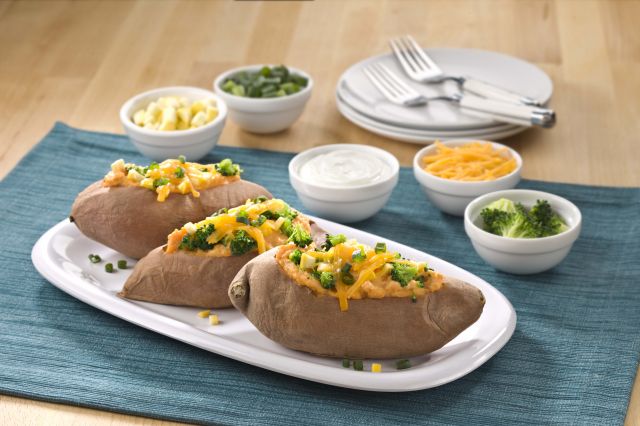 Veggie-Cheese Spud Stuffer
Equipment
Cutting Board

Knife

Fork

Bowl

Microwave
Ingredients
Ingredients

2

tablespoons

light sour cream

2

tablespoons

chopped broccoli

2

tablespoons

chopped yellow squash

1

tablespoon

water

2

tablespoons

shredded low fat cheddar cheese

1

tablespoon

sliced green onion

1

medium baked sweet potato
Instructions
Directions

Wash hands with warm water and soap.

Wash vegetables before preparing.

Let your baked sweet potato cool slightly. Carefully cut open the top.

Place sour cream inside the sweet potato and use a fork to mix.

Combine broccoli, squash, and water in a microwave safe bowl. Cover the bowl with a lid or plastic wrap. Be sure to leave a little opening for the steam to get out.

Microwave on high for 2 minutes. Use a pot holder to remove the bowl from the microwave because it may be hot.

Let stand for 1 minute and them remove lid. Drain water.

Spoon broccoli and squash onto the baked potato. Top the sweet potato with cheese and green onion.

Serve immediately.
Notes
Nutrition Facts (Per Serving)
Nutrient analysis per serving (1 baked potato): Calories 180; Carbohydrate 27 g; Protein 8 g; Total Fat 4 g; Saturated Fat 2 g; Trans Fat 0 g; Cholesterol 15 mg; Fiber 4 g; Total Sugars 10 g; Sodium 150 mg; Calcium 171 mg; Folate 15 mcg; Iron 1.0 mg; Percent Calories from Fat 20%.
Makes 1 serving