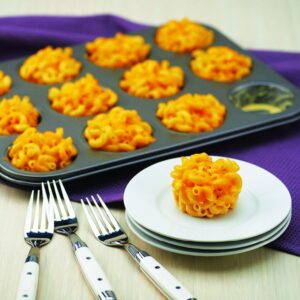 Mac and Cheese Cups
Equipment
Oven

Medium Bowl

Stirring Spoon

Medium Sauce Pan

Muffin Tin
Ingredients
Ingredients

3

cups

fat-free milk

2 ½

tablespoons

all-purpose flour

1 ½

cups

shredded low-fat Cheddar cheese*

¾

cup

shredded low-fat Mozzarella cheese *

½

cup

grated Parmesan cheese

8

ounces

elbow macaroni

cooked and drained

*Use 2% reduced fat cheese if low fat is not available
Instructions
Directions

Wash hands with warm water and soap.

Preheat oven to 350ºF.

In medium bowl, slowly mix 1 cup of milk with flour, stirring constantly until all lumps have dissolved. Add the remaining milk, stirring thoroughly.

Add milk to medium saucepan on stove and simmer 15 minutes, stirring occasionally, until sauce thickens.

Mix 1 cup of the Cheddar, all the Mozzarella and Parmesan cheese together in medium bowl. Add cheese to the milk and stir until blended.

Add macaroni to the saucepan, stirring gently to coat well.

Lightly spray muffin tin with non-stick cooking spray and place one scoop of mac and cheese mixture into each muffin cup. Top with reserved ½ cup shredded Cheddar cheese.

Bake 15 minutes or until golden brown.

Let cool for 5 minutes before serving.
Notes
Nutrition Facts (Per Serving)
calories, 192; carbohydrate, 23 g; protein, 15 g; total fat, 4 g; saturated fat, 2 g; trans fat, 0 g; cholesterol, 13 mg; fiber, 1 g; total sugars, 4 g; sodium, 304 mg; calcium, 351 mg; folate, 6 mcg; iron, 0 mg; percent calories from fat, 19%.
Makes 10 servings, one muffin cup each.