Sun Produce Co-op is able to offer dry pinto beans all year round here in AZ. The Co-op buys them from both Crooked Sky Farms and Bonita Bean Company located in Willcox, Arizona.
Cooking beans from scratch has a ton of advantages. Not only is it cost effective and delicious, but you can better control the ingredients as compared to commercially canned beans. If you've never cooked beans from scratch before, the recipe below is an easy place to start!
Health Benefits
Pinto beans are extremely nutritious. They're an excellent source of plant-based protein and fiber, and rich in nutrients such as potassium, iron, folate, and magnesium. Eating fiber-rich foods has so many health benefits, including promoting heart health, blood sugar control, and proper digestion.
These beans are hearty, tender, flavorful, and delicious! They're great on their own as a snack or healthy side dish. You can also add them to meals like burrito bowls, tacos, tostadas, salads, chili, and more. They're extremely versatile and pair well with almost anything!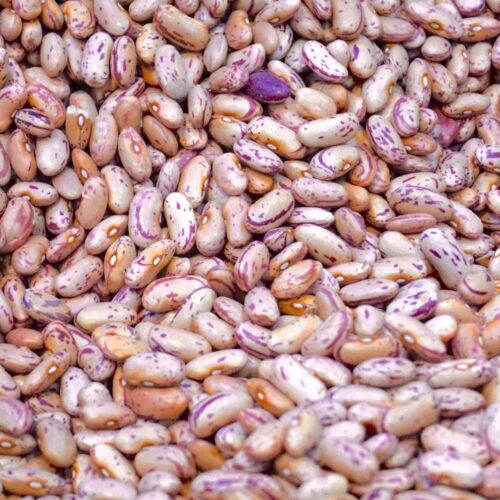 Simple Pinto Beans From Scratch
This simple pinto beans recipe can be prepared on the stovetop, slow cooker or with an Instant Pot.
Ingredients
1

lb

dry pinto beans

1

small onion

diced

4

cloves

garlic

smashed

1

jalapeno or serrano pepper

1/4

cup

cilantro leaves

Small ham hock

slice of bacon, or pork bone*

1/2

tsp

salt

1

tsp

black pepper

1

tsp

paprika

2

cups

chicken or vegetable broth

optional

Water
Instructions
Sift through the beans and pick out any small rocks or debris that may be present. Cover the beans with water (at least 3 inches over beans) and let sit on the counter overnight.

Drain and rinse beans. Transfer beans to a large heavy-bottomed pot with a lid. Add onion, garlic, jalapeno, cilantro, and ham hock, if using. Add spices and broth if using and fill the pot with enough water to cover the beans by at least 2 inches.

Place lid on the pot and heat over medium-high heat. Boil beans for 1 minute, then turn heat to low and simmer 2-4 hours or until beans are tender.
Notes
*omit for vegetarian.
**For slow cooker, follow directions as written, but add beans to your slow cooker instead of a pot on the stove. Cook on high about 3-4 hours or until tender.
**For Instant Pot, add all ingredients to the pot of the Instant Pot. Close and lock lid and seal vent. Cook on high pressure for 25-20 minutes for unsoaked beans or 8-10 minutes for soaked beans. Let pressure release naturally before removing the lid.