One of the question's that I often get asked as a chef is "what do I cook with all these veggies from the CSA box?". It's a VERY common question, not only asked by CSA members but often by my OWN neighbors who send me a quick text to say, "what can I do with _______?"
A produce box is an invitation to try something new with the same techniques that one is accustomed to. Many home cooks are used to sautéing, roasting, pan frying or grilling techniques, and these are keys into making every bit of those veggies make a performance at your dinner table. Yet, there DOES come a time in which you may have some odds and ends in that box that you are unsure of how to use and this is where I encourage you to think of fine dining.
You know it as fine symmetrical foods, not a lot of portions, but purposefully placed ingredients on a plate that when eaten, each bite has a symphony feel, all coming together in harmony and balance. So much so, that you are really enjoying the meal and not so much for the sake of eating, but it brings you joy and happiness.
It's not often that many of us eat out that way, so I encourage you to give this recipe a try. It's a way to gather ingredients and highlight them individually. For this recipe, I used the beautiful bounty of roasted veggies followed by previously cooked millet.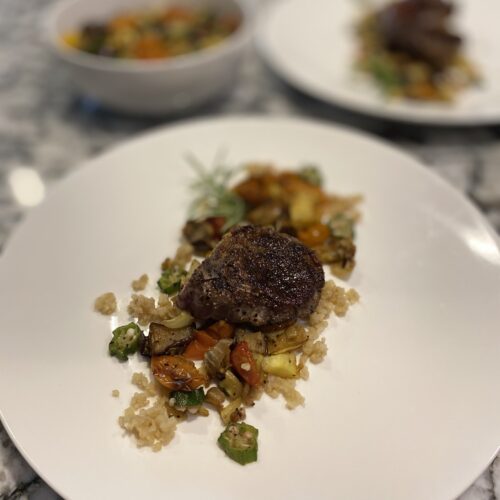 CSA Box Dinner
Getting the best out of every single CSA box of produce.
Equipment
Sauté Pan

Sheet Pan

Cutting Board

Knife

Tongs
Ingredients
1

each

zucchini

quartered

1

each

eggplant

quartered

4

each

okra pods

thinly sliced

1

pint

cherry tomatoes

halved

1

4oz

lamb chop (or protein of choice)

sear and rest

1/4

cup

olive oil (or oil of choice)

1

tbsp

garam masala powder

1

cup

cooked millet

(or grain of choice)

Salt and Pepper to Taste
Instructions
Prep all the vegetables and add to sheet pan.

Season veggies with garam masala powder and salt and pepper (to taste).

Drizzle HALF of the oil onto veggies and using hands, toss to incorporate seasonings and oil to veggies. Roast for 30 minutes.

Heat saute pan to medium heat, add a little oil to bottom of pan. Season chop with salt and pepper and sear on both sides for 3-4 minutes. Remove from pan and rest until vegetables are ready.
Notes
Nutrient values are estimates only. Nutrition information can vary for a recipe based on factors such as precision of measurements, ingredient freshness, variations in ingredients, or the source of nutrition data.