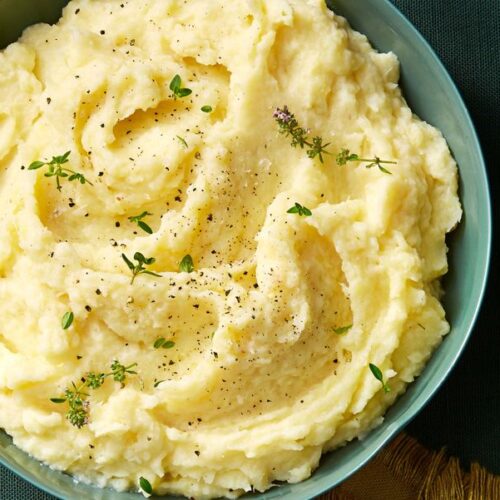 Potato & Parsnip Mash
Equipment
Cutting Board

Knife

Potato Masher

sauce pan

Stove
Ingredients
1 ½

pounds

parsnips

1 ½

pounds

yukon gold potatoes

2

teaspoons

Salt

4 ½

cups

water

2

Tbsp

unsalted butter

½

teaspoon

salt

1

Tbsp

chopped parsley

1

Tbsp

chopped chives

1/8

teaspoon

freshly ground black pepper
Instructions
Prep:

Peel the parsnips. Cut them crosswise into ½-inch thick

medallions. Peel the potatoes and cut them into 1 to 1 ½-

inch chunks.

Simmer:

Place into a medium saucepan, cover with water, add two

teaspoons of salt. Bring to a simmer, reduce the heat, cover

and let cook for 10 minutes, until a fork can pierce easily.

Steam

Drain and return the parsnips and potatoes to the warm

pan. Cover and let steam in the heat of the pan for 10

minutes.

Mash

Using a potato masher, mash the parsnips and potatoes

until nicely mashed. Don't over mash or they will be gluey.

Season

Add butter and salt (omit salt if using salted butter), and

mash some more. Stir in the chopped parsley and chives.

Add black pepper and more salt to taste.