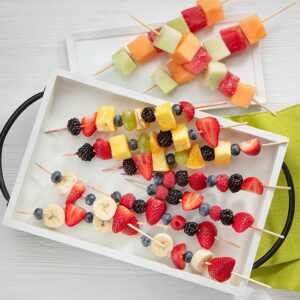 Summer Berry Skewer
Equipment
Cutting Board

Knife

Skewers
Ingredients
Ingredients

1

cup

strawberries

halved

½

cup

blueberries

½

cup

raspberries

½

cup

blackberries

2

wooden skewers

Feel free to use your favorite seasonal fruits.
Instructions
Directions

Wash hands with soap and warm water. Wash all fresh fruits before preparing.

Chop off the ends of the strawberries. Slice each strawberry in half.

Stack each skewer with a mix of each of the berries.

Serve immediately.
Notes
Nutrition Facts (Per Serving)
Calories, 75; Carbohydrate, 18 g; Protein, 2 g; Total Fat, 1 g; Saturated Fat, 0 g; Trans Fat, 0 gm; Cholesterol, 0 mg; Fiber, 6 g; Total Sugars, 10 g; Sodium, 2 mg; Calcium, 30 mg; Folate, 36 mcg; Iron, 1 mg; Calories from Fat, 12%.
_2 servings, 1 skewer each_