As other parts of the country are celebrating "Sweater Weather", this time of the year in Arizona continues to celebrate "Sunshine and Shorts Weather". I am not alone, being new to Arizona loving this time of year after spending my first summer here. We moved here from Utah a year ago, so it's only appropriate to continue to pay homage to the cooing temps this time of year in Arizona, and pay homage to summer classic side; the Potato Salad.
Our local farms like Whipstone, and Rhiba Farms and Briggs and Eggers have provided some of fall classics like apples, savory herbs, and root vegetables so I decided to incorporate them all into an Autumn Potato Salad.
Roasting potatoes to a crisp in my oven, then cooling them completely before tossing with diced local apples, savory herbs like thyme and parsley, and mayonnaise is the perfect segway into "sweater weather".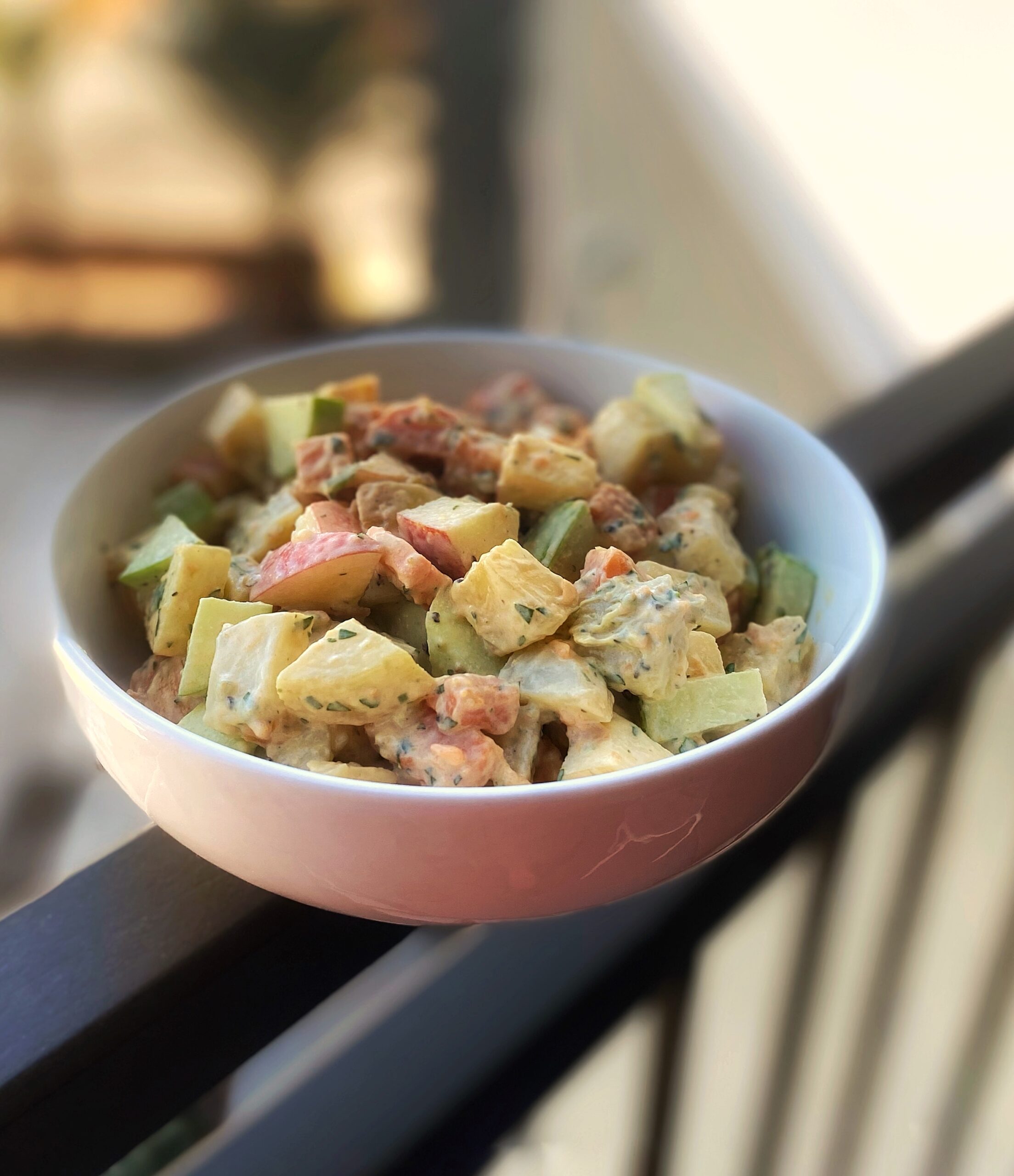 Autumn Potato Salad
Local Roots with Autumn Vibes Recreates the Classic
Equipment
Sheet Pan

parchment paper

Knife

Cutting Board

Bowl

Spatula or Large Spoon
Ingredients
3

each

Potatoes

Any variety, but seek colors from Yam, Sweet Potatoes, Purple Potatoes, or Tri Colored Carrots

4

each

Apples

Any Variety, skin on, acidulated (see notes)

1/4

c

olive oil

2

each

Thyme Sprigs

Fresh is best

1/2

c

Mayonaise

1

tsp

Lemon Juice

1

quart

Water

2

tsp

Salt

Season to taste

2

tsp

Pepper

Season to taste
Instructions
Heat oven to 350. Line sheet pan with parchment paper.

Toss root vegetables with olive oil, and season with salt and pepper and arrange, single layer onto sheet pan.

Bake until crisp about 30 -40 minutes. Remove from oven and cool completely.

Make the acidulated water by adding lemon juice to water and mix together with a teaspoon of salt.

Cut the apples into small diced and toss into acidulated water. Cover and refrigerate.

Take a bowl, add the mayonnaise, the fresh thyme leaves, and toss the potatoes in it.

Refrigerate to cold temperature.

When ready to eat, toss with apples (drain from acidulated water and toss into potatoes).
Notes
One of the reasons that I personally gravitate towards potato salad as a year round recipe is because of its flexibility to accompany ANY dish. It easily makes a fast side dish to a weeknight dinner. This variety with the fall produce reminds is a good change and its a wonderful addition to the palate. The key is to make sure your apples are crisp and flavorful, and that is where the acidulated water comes into play. If you don't have any lemons, feel free to use a tsp of salt to acidulate the water instead. Add the apples right before plating to keep that crunch!