I love the Fall season packed with cinnamon, nutmeg, cloves, and pumpkin spices! The air smells good and spirits are high. I can't think of anything cozier and more classic than an apple crisp. I created this recipe with the idea of cutting down the sugar and increasing good-for-you nutrients! I reduced the amount of brown sugar and butter, then increased the amount of nuts, oats, and added flaxseeds. You can really taste each ingredient and spice and not be overloaded with sugar. I even love this crisp over Greek yogurt for breakfast – like a parfait!
Featured Fruit & Farms:
Granny Smith Apples
Maya's Farm, Briggs & Eggers, Whipstone, Crooked Sky, and Blooming Reed Farms
From, Chef Courtney at Nutrition Thyme RD
www.nutritionthymerd.com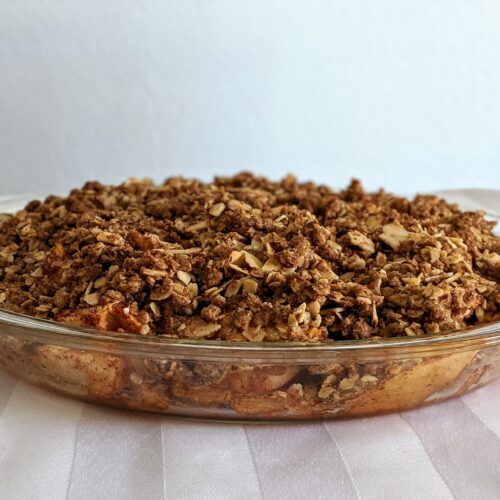 Fall Cinnamon Apple Crisp
Equipment
mixing bowl

Baking dish

Cutting Board

Knife
Ingredients
Apples & Spice:

5

each

granny smith apples

thin to medium slices

1

tsp

ground cinnamon

1

tsp

brown sugar

2

tsp

vanilla extract

Crumble Topping

1/4

cup

whole wheat pastry flour

1/2

cup

oats

1/4

cup

slivered almonds

3

tbsp

brown sugar

1

tbsp

ground flaxseed

(or ground chia seed)

1/4

tsp

salt

1

tsp

ground cinnamon

1/2

tsp

ground nutmeg

1/2

tsp

ground allspice

3

tbsp

butter, unsalted
Instructions
Preheat oven to 350 degrees F

In a mixing bowl, toss sliced apples with cinnamon, brown sugar, and vanilla

Place in a greased baking dish or pie pan; set aside

Make the crumble topping:

In a mixing bowl, toss the flour, oats, almonds, brown sugar, flaxseed, salt, and spices

Rub or cut in the butter until crumble is thoroughly mixed

Can use a stand or hand mixer to help with this

Place crumble on top of the apples evenly

Place in oven and bake for 20-30 minutes
Notes
Use your favorite apples or a variety
Works great with ground flaxseeds or ground chia seeds or a combination
If you don't have whole wheat pastry flour, option to do 1/2 whole wheat flour + 1/2 all purpose flour.  Whole wheat pastry flour is softer and not as "harsh" tasting as regular whole wheat flour.  Also can experiment with using other flours, such as almond flour or coconut flour.