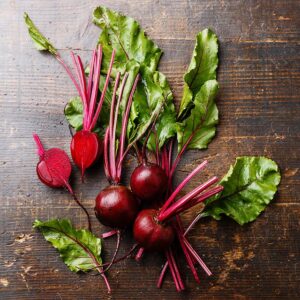 Sweet and Sour Beets
Equipment
Cutting Board

Knife

Peeler

Oven

Baking dish

Aluminum Foil

Stirring Spoon
Ingredients
Ingredients

1

bunch beets with greens

2

Granny Smith apples

¼

cup

lemon juice

¼

teaspoon

ground nutmeg

¼

teaspoon

salt

2

Tablespoons

brown sugar

¼

teaspoon

salt
Instructions
Directions

Wash hands with soap and warm water. Wash fresh fruits and vegetables before preparing.

Preheat the oven to 350°F.

Peel and trim the beets and apples, cut into 1/2-inch slices and place in a baking dish.

Set the greens aside.

Sprinkle lemon juice over the beet/apple combination and mix nutmeg and salt throughout.

Top with the brown sugar.

Cover lightly with aluminum foil and bake for 30 minutes.

Remove the foil, stir, and bake uncovered for 15 minutes more or until tender.

Trim the stems from the beet greens.

Stack the leaves on top of each other and cut into strips.

Steam 3 minutes or until tender.

Mix with the cooked beets, add salt, and serve.
Notes
Nutrition Facts (Per Serving)
Calories, 128; Carbohydrate, 32 g; Protein, 2 g; Total Fat, 0 g; Saturated Fat, 0 g; Trans Fat, 0 g; Cholesterol, 0 mg; Fiber, 6 g; Total Sugars, 24 g; Sodium, 398 mg; Calcium 32 mg; Folate, 140 mcg; Iron, 1 mg; Percent of Calories from Fat, 0%.
Makes 4 serving