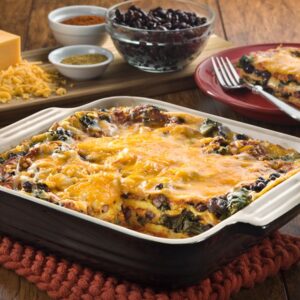 Cheesy Veggie Enchiladas
Equipment
Paring Knife

Blender

Bowl

Baking dish

Oven
Ingredients
Ingredients

2

large yams

about 12 oz.

1½

cups

about 12 oz. frozen spinach

1

can

14.5 oz. diced, no-added sodium tomatoes in juice

1½

teaspoons

ground cumin

1½

teaspoons

chili powder

9

6-inch corn tortillas

¾

cup

grated

reduced fat cheddar cheese

¾

cup

grated

part-skim mozzarella cheese

nonstick cooking spray

1

can

13 ½ oz. drained, low sodium black beans
Instructions
Directions

Wash hands with warm water and soap.

Wash fresh vegetables before preparing.

Poke 2 or 3 small holes in each yam and bake at 350 degrees F for 45 minutes or until soft. Cool until able to handle. In blender, combine canned tomatoes with juice, yams, cumin, and chili powder. Blend until smooth to make a vegetable sauce.

Set aside ¼ cup of the grated cheddar.

In a small bowl, mix remaining cheddar cheese with the mozzarella cheese.

Spray an 8×8-inch baking dish with nonstick cooking spray. Pour ½ cup of the vegetable sauce on bottom of pan.

Lay in half of the tortillas on top of the sauce in the pan. Sprinkle with half of the spinach, half of the beans and half of the cheese. Pour ½ of the remaining vegetable sauce over the top and spread over everything.

Repeat step 7 one more time. Top with reserved cheddar cheese.

Bake covered at 350 degrees F for 45 minutes. Remove covering for the last 15 minutes.

Serve hot.
Notes
Nutrition Facts (Per Serving)
Calories, 272; Carbohydrate, 45 g; Protein, 16 g; Total Fat, 5.5 g; Saturated Fat, 2 g; Trans Fat, 0 g; Cholesterol, 11 mg; Fiber, 10 g; Total Sugars, 6 g; Sodium, 395 mg; Calcium, 372 mg; Folate, 139 mcg; Iron, 3.9 mg; Calories from Fat, 18%.
Makes 6 servings, approximately 1 ½ enchiladas (1/6th of a pan) each