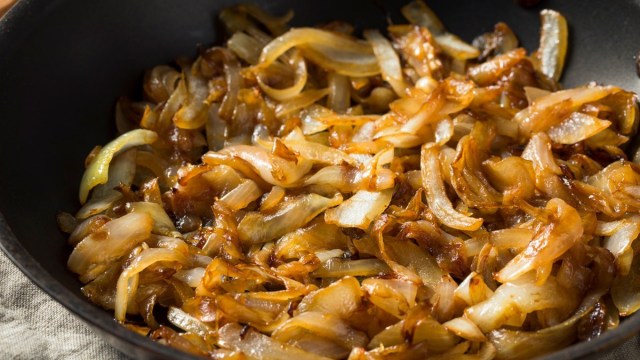 Caramelized Onions
Equipment
Skillet

Stove

Knife

Cutting Board
Ingredients
Ingredients

Serve these onions as a side dish or as an addition to salad

spaghetti sauce, or vegetables and rice.

Ingredients:

1

teaspoon

vegetable oil

1

pound

onions

peeled and sliced
Instructions
Directions

Wash hands with warm water and soap.

Heat the oil in a heavy skillet on medium heat.

Add onions and cook, stirring occasionally, until soft and browned, about 20 minutes.

Serve warm.
Notes
Nutrition Facts (Per Serving)
Calories, 55; carbohydrate, 11 g; protein, 1 gm; total fat, 1 gm; saturated fat, 0 gm; trans fat, 0 g; cholesterol, 0 mg; fiber, 2 gm; total sugars, 5 g; sodium, 3 mg; calcium, 26 mg; folate, 22 mcg; iron, 0 mg; percent of calories from fat, 16%.
Makes 4 servings.
Photo Credit: Eatthis.com